H2 Brings GE Additive's Design for Additive Manufacturing Course to Denver
GE Additive's Design for Additive Manufacturing Course Comes to Denver
October 24&25 class brings world-class information to Colorado manufacturing designers and engineers.
Denver, Colorado – H2 Manufacturing Solutions, providing manufacturers a broad scope of problem-solving services, in cooperation with GE Additive and Manufacturer's Edge, brings GE Additive's Design for Additive Manufacturing (DfAM) course to Denver October 24 and 25, 2017. The State of Colorado's Office of Economic Development and International Trade (OEDIT) will provide classroom space at 1625 Broadway Street, 8th floor, Denver, CO 80202.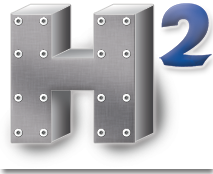 "Additive manufacturing is fundamentally changing how manufacturing is done, and the biggest gap is designing parts to realize all the benefits additive provides," said H2 Manufacturing Solutions CEO Heidi Hostetter. "We're thrilled to bring the world's leading experts in additive manufacturing design to Colorado to share their knowledge. H2 and Manufacturer's Edge saw this as another way to help the ongoing effort to make Colorado a leader in additive manufacturing."
"With additive manufacturing, design innovation is free," said Chris Schuppe, engineering leader at GE Additive. GE has stated that industrial 3D printing will forever change the manufacturing world as we know it. This is one step that design engineers can take to ensure they are prepared for that change.
Schuppe will lead the class and bring other GE Additive experts along as instructors. In 2012, he led GE Aviation's engineering design team, making significant improvements to the CFM International LEAP engine fuel nozzle. In November 2014, his team developed and tested a CT7 GE helicopter engine designed and made with almost 90% additive parts and systems. His teams have also been responsible for creating additive heat exchangers and developing additive applications for many other programs.
The CFM LEAP fuel nozzle tip combines 20 parts into one for a 400% increase in durability and 25% reduction in weight and was one of the first additively manufactured jet engine components certified by the FAA. This translates into savings for an airline flying a plane with CFM's next-generation LEAP engine, thanks to a part that combines many engineering and manufacturing steps into one and can only be made using additive manufacturing.
Schuppe's teams created and generated more than 50 patents in 2016. He also led the engineering function for GE's acquisition of Concept Laser and Arcam – both makers of additive manufacturing machines. In October 2016, he became engineering integration leader for GE Additive, GE's new business focused on accelerating the additive adoption rate across many industries such as Automotive, Aerospace, Energy, Medical, and Dental.
The course covers an introduction to additive manufacturing, design for additive manufacturing, additive material characteristics and selection, additive part selection, machine and part qualification, break-out exercises, and open discussion.
This event and the cutting-edge information it presents are typically offered at $3,000 per seat. It will be free of charge to the first 55 manufacturing professionals from Colorado who register. Lunch will be provided by Manufacturer's Edge.
What: GE Design for Additive Manufacturing Course
Dates: October 24 & 25, 2017
Time: 8:00 a.m. to 5:00 p.m.
Place: 1625 Broadway St, Suite 820, Denver, CO 80202
Cost: Free. To register, visit this web page.
Course attendance is limited to two attendees from any company/organization.
About H2 Manufacturing Solutions H2 Manufacturing Solutions offers a broad range of services to help manufacturers navigate the daily challenges of the modern manufacturing world. Our one-stop-shop addresses any business challenge a manufacturer encounters, from representing best-in-class equipment and service providers to operational improvement consulting to business development strategies to technical expertise. At H2, our mission is to make manufacturers' day-to-day challenges more manageable and less frustrating. Our promise is to deliver Honest. Hardworking. Results. For more information, contact H2 Manufacturing Solutions at 970-692-3344 or h2@h2manufacturingsolutions.com. Visit H2 Manufacturing Solutions on the web, Facebook, Twitter, or LinkedIn.
About Colorado OEDIT The Colorado Office of Economic Development and International Trade (OEDIT) works with statewide partners to create a positive business climate that encourages dynamic economic development and sustainable job growth. Under the leadership of Governor John Hickenlooper, we strive to advance the state's economy through financial and technical assistance in support of local and regional economic development activities throughout Colorado.
About Manufacturer's Edge Manufacturer's Edge is a statewide manufacturing assistance center, partially funded by the NIST Manufacturing Extension Partnership (MEP). Manufacturer's Edge encourages the strength and competitiveness of Colorado manufacturers through onsite technical assistance through coaching, training, and consulting, collaboration-focused industry programs, and leveraging government, university and economic development partnerships.