Faustson Tool Awarded Top Prize for Innovation
Innovation Pavilion' inaugural event honors leading Colorado companies
Faustson, a worldwide leader in the machining industry, received the Manufacturer's Edge Manufacturing Innovation Award at Innovation Pavilion's inaugural Innovation Awards ceremony last week. Governor John Hickenlooper gave opening remarks for the event, attended by more than 350 Colorado's innovation community members.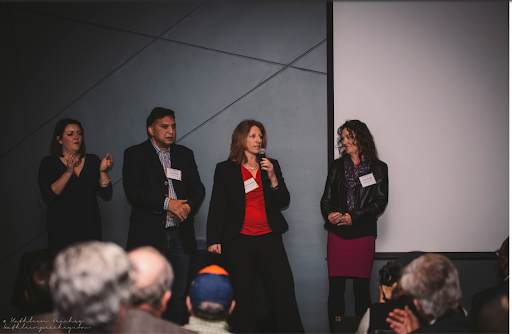 In response to the honor, Faustson Vice President Heidi Hostetter said, "We couldn't be more honored to receive this recognition. It's truly an honor, and, as noted at the awards ceremony, this is Colorado's award; we merely accepted it. Thanks to Manufacturer's Edge, School of Mines, OEDIT, Ball, and Lockheed and certainly to all the employees of Faustson for their hard work and efforts to make these ideas a reality."

See the video of Hostetter and Faustson President Alicia Svaldi at the award ceremony here.
Faustson was nominated for its long history of leading its field in innovation. Faustson won the award for demonstrating outstanding leadership in building a practical research center in Colorado that provides testing, performance analysis, and materials knowledge for 3D metal printed parts, especially those parts that apply to aerospace and advanced manufacturing.
All nominees were evaluated by entrepreneurial community leaders and Innovation Pavilion partnership organizations. Selection criteria were based on a peer review of a company's outstanding contribution to advancing innovation in Colorado.
About the awards ceremony, Vic Ahmed, Innovation Pavilion Founder, and CEO said, "Since our founding, it has been our mission and vision to recognize and promote leaders in our entrepreneurial community. It is our honor to highlight these nominees in our newest expansion location, Parker, CO. This event has brought together leaders from every sector of our community- businesses, government, and non-profits. These productive collisions are what makes Colorado such a special place that promotes problem-solving, collaboration, and innovation".
About Innovation Pavilion
Innovation Pavilion is an ecosystem of entrepreneurs where productive collisions lead to creative solutions. Located in Centennial, Colorado, Innovation Pavilion provides co-working spaces, business incubation programs, job readiness training, and a collaborative community that brings together entrepreneurs and business leaders of all shapes and sizes. For more information, visit www.innovation pavilion.com.
About Faustson Tool
Faustson Tool, a worldwide leader in the machining industry, provides services for clients worldwide in the medical, aerospace, aeronautics, defense, semiconductor, and other industries. The company, founded in 1982, provides additive manufacturing/3D metal printing, 3-, 4- and 5-axis milling, and 5-axis EDM services, turning capabilities for cutting-edge custom part production, and efficient production of standard parts. Faustson Tool is a woman-owned and operated small business. For more information, visit www.faustson.com, email hhostetter@faustson.com,or call (303) 420-7422.