Faustson Tool Announces Addition of Concept Laser M2 Laser Cusing Machine
Concept Laser announced the M2 cusing Multilaser metal additive manufacturing system at Faustson Tool of Arvada, Colorado. The high precision machine shop specializes in the aerospace, aeronautics, defense, energy, medical and semiconductor industries.
"From our inception, Faustson Tool has committed to being a pioneer in the industry by utilizing new leap-frog technology and pushing the bounds of a traditional machine shop," said Alicia Svaldi, President, Faustson Tool. "While conducting our in-depth research on additive manufacturing processes available on the market, the LaserCUSING® technology from Concept Laser was the best fit."
"Staying at the forefront of technology is critical, not only to stay competitive but to provide our customers with the best manufacturing solutions available on the market. Concept Laser's M2 cusing Multilaser system with 2 x 400 W lasers provides another depth to our manufacturing services," said Heidi Hostetter, Vice President, Faustson Tool.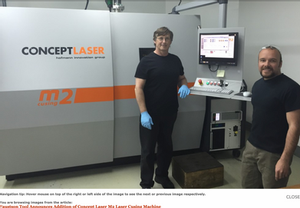 "There is a tremendous emphasis on UAV and defense in Colorado," continued Hostetter. "As new technologies, such as metal additive manufacturing came on to the market, our customers began requesting services that could only be produced on an additive manufacturing system. The technology we found from Concept Laser was stronger than other metal additive manufacturing technology available, offered flexible parameters, and fit into our current process seamlessly. The multilaser technology offers throughput similar to higher-powered systems (e.g., 1kW) while maintaining the high-precision and superior finish available with lower power settings."
Concept Laser introduced the redesign of the M2 cusing with a multilaser option at the end of 2014. With a new look and fully integrated structure, the M2 is equipped with a new filter design and an increased surface area of 20 square meters. The M2 cusing Multilaser is available with 2 x 200 W lasers or 2 x 400 W lasers and uses Concept Laser's improved segmented exposure strategy for laser melting of metals. The dual-laser configuration increases the machine's throughput by up to 1.8 times over its single-laser counterpart. The increase is dependent on the geometry of the corresponding component. These solutions with multilaser technology are interesting to digital service centers with a tendency to industrial mass production.
"Concept Laser is very excited about our partnership with Faustson Tool," said Zach Murphree, Ph.D., Regional Manager, Technical Sales Engineer, Concept Laser. "Companies like Faustson Tool represent the next step in the maturation of the additive metals industry, where the technology is gaining acceptance within production facilities, not just OEMs. The M2 cusing Multilaser system results from fifteen years of continued metal additive development at Concept Laser. It is accelerating the acceptance within the industry, and Faustson is on the leading edge of this wave."
To begin, Faustson will build with Concept Laser's recently introduced CL 92PH (also known as 17-4 PH Stainless Steel) and Nickel Alloy 718.
Faustson Tool operates a 16,000-square-foot facility with more than 20 highly skilled employees and is owned and operated by Alicia Svaldi, President, and Heidi Hostetter, Vice President. Faustson Tool remains at the forefront of the manufacturing industry, continuing to pioneer the newest technology and push its limits. Faustson Tool takes on the most challenging applications only a few U.S. companies can handle, using state-of-the-art precision machining to do things no one else in the industry thinks can be done. Faustson's reputation for innovation and excellence has earned the company prestigious clientele: Faustson Tool manufactured a key component in NASA's Kepler space telescope and has worked with Ball Aerospace to produce parts for the U.S. F-35 Lightning II Joint Strike Fighter jet.
Photo Left: Ralph Sassenhausen, Technical lead for 3D printing Photo Right: Mike Muessel, Manufacturing Manager
For more information, visit: www.faustson.com